If you are huge fan of sporty you are going to love this full up to date headlines. The great news is JQuery plug-in which is providing this up to date and detailed headlines of your favourite sport. In order to be always informed and to keep headlines automatically streaming you should use ESPN API created as JQuery plug-in. With ESPN API you will be always connected to the world of sports gathering all of the crucial information.
In order to make your site more interesting and appealing to the user this newest JQuery plug-in allows you to display sports headlines to your website. These headlines provides users with many different sports and teams. If you want to see ESPN API in action you should check its Live Preview.
This newest plug-in created by JQuery will easily allow you to display these headlines and modify them on your website. These headlines will definitely be amazing addition to your website and will attract wide range of audince as well.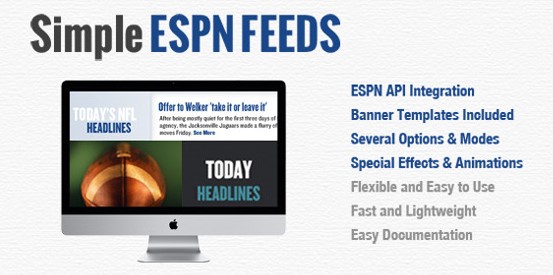 When it comes to the actually using these headlines, the job is really easy. All you have to do is to find your favourite team or favourite sport and in no time you will see all needed information displayed in front of you. There is also great CSS template available which provides you with possibilities and options for the headline displayed od your website. This CSS template provides you with great number of ideas and possibilities from which you can choose. Besides templates available you can customise your interface and make it more appealing to the users.
This JQuery plug-in ESPN headlines besides allowing you to customise interface also gives you great number of tools and cool settings in order to improve your overall experience. Plug-in comes with the instructions and documentation to explain you the basics. When it comes to the compatible browsers, ESPN API is working perfectly on major browsers like Chrome, Firefox, Opera and Safari. This plug-in documentation include files JavaScript, HTML and CSS.